Once in a while, an opportunity randomly opens up for me to take or leave. This time, I chose to take.
There was a Diwali happening near my area, and my after-school program thought I could take pictures of them. This wasn't out of random selection, rather I was asked if I wanted to volunteer and take pictures for them. I happily accepted it, they've seen some of my pieces before and they really liked it. I was excited too, other than the nervousness of covering an event like this along with my fellow volunteers (I'm not the only photographer, but still) — I've never been to a Diwali.
 First of all, what is a Diwali? (Explanation ahead, correct me if I'm wrong!)
A Diwali is an important holiday in Indian culture, it is a festival of lights that celebrates the victory of good over evil, light over darkness and etc., there are legends that go with it but I'll skip the specifics — apparently, they were told differently depending where in India you live. It's celebrated by Hindus, Jains, and Sikhs. It's known as the "festival of lights", because shops, houses, and places are decorated with small oil lamps called "Diyas". These lights are placed in rows at doors, by windows, and outside buildings.
I'm not too familiar with Indian culture, but I have to say that the food is really damn amazing. I mean, have you ever had butter chicken? Samosas? Curry? If not, then you are completely missing out. The flavours are just… Wonderful. Spicy, yes. But very, very delicious. It was the first thing I smelled when I came in the room, the aroma of food. It was strong, or maybe I'm just that hungry.
Dancing, singing, and more dancing. It was very colourful, and very joyful. The ones seated on the mezzanine were screaming in joy as the dancers moved around in their garbs of colours, smiling, spinning, and dancing against loud music. To be honest, I really do not know what people up at the top seats were going wild about — maybe it's just my lack of knowledge of their culture. But nevertheless, I enjoyed it, very much so. It was new, yet it was beautiful.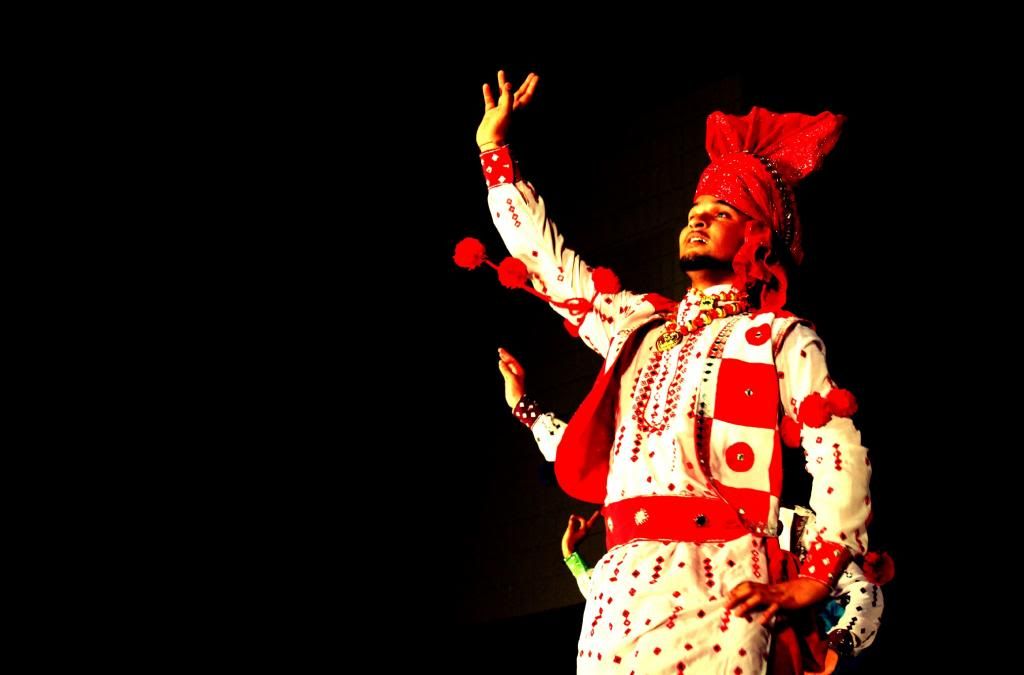 Dances like Mahiya, Bollywood, a variety of Bhangra, "Bhangra Via Africa" (which I found most interesting, for it were African girls executing Bhangra), Sohinya Punjabana, Gidha, music of folk and instrumentals were present during the night. They were performed by people of young and old, and even people I know! The whole time, I've been running here and there taking photos in various angles, preventing wires and stomaching through being so close to a loud speaker just to get shots. On a short sidetrack moment, I never really understood how people can stand beside a loud speaker — my ears die in seconds…
My first Diwali experience was fun. I knew of the yearly event's existence near my area for a while, but I never actually went inside and watched. It was definitely interesting, and worth the go. I'm very interested with events and things of other cultures, and I'm always inclined to discover more! Maybe, next Folklorama I should make the effort of the going through different pavillions. Culture, culture is very interesting. As a Canadian, everyday we go to work, school, or wherever and immerse ourselves to the variety presented. But the coolest thing about it, is that we can all get along.