About a few days ago, the daughter of a close family friend celebrated her 7th birthday. From my knowledge of things, 7th birthdays are commonly celebrated. Since TJ's their only daughter (they have two sons), it's blatantly communicated that this little lady was going to have quite a lovely celebration. To add to that, I got quite a pretty-looking Hello Kitty invitation to pair with the mindset (which also gave me an idea what to get her for a present).
The birthday took place in a moderately-sized parish hall, I don't really know if  it's either a church-to-party venue place, or just a venue for a Christian occasions. I don't attend to this church to be honest, so I have no prior knowledge to what the place really is.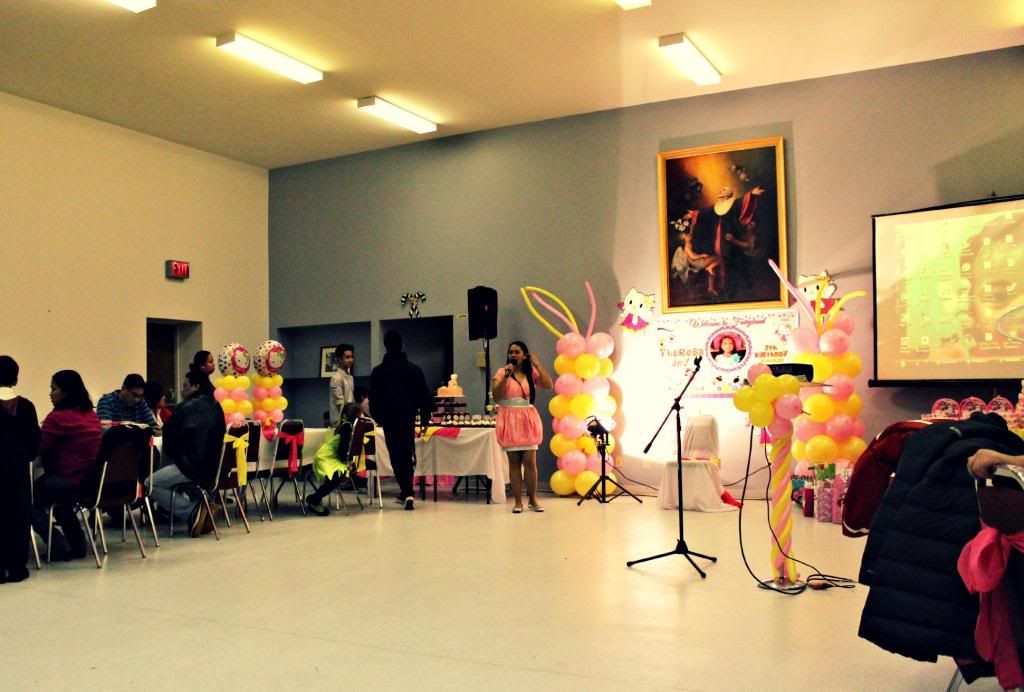 Not bad, decor-wise. As expected, the place is baptised with Hello Kitty themes. A 7th birthday party is not a debut, so it has to feel child-like — not much extravagance needed, save that for the debut. I adore the balloons, although I felt there was an indulgence in distribution — it sets a "wall" from the person across you, which makes you unable to see them and I had to take some of them down (and home as well, because they look nice). This way, I can say hello to my seat mates.
Not long after, the party started. But first, the birthday celebrant — fashioned in a fairy-princess theme, just like the one in her invitation – must be escorted to her seat before everything else!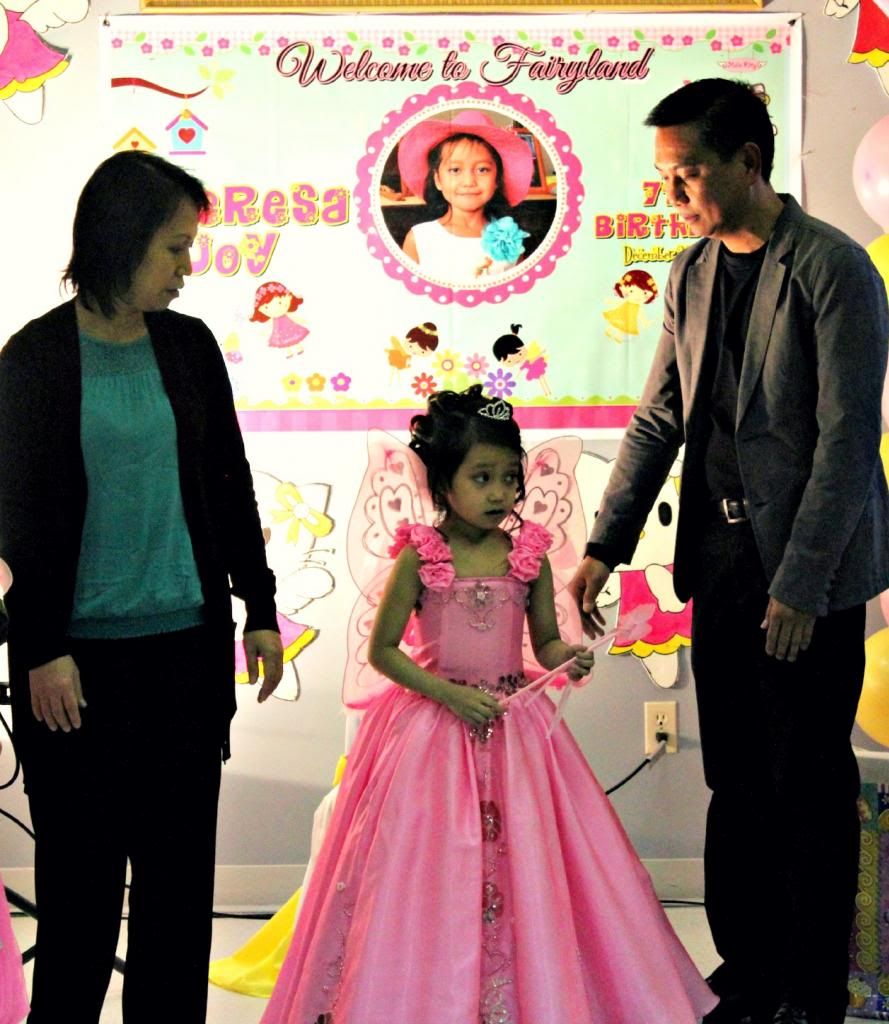 Following the classic tradition, there was food and there were games. There was a moment when I was extremely tempted to join musical chairs (I love that game), but then I concluded that I will just end up defeating them with my years of experience. I'm a veteran, and I'm totally not bluffing.
But you know what I loved the most? The cake-cupcake mountain of goodness. As soon as I saw it, I fell in love with it. It's simply adorable, and practical. Cupcakes are easier to finish than one giant cake, and it's also quite cute too — staying true to its Hello Kitty extravaganza. It came from about three different bakers (?), with their cupcake style identifying their identity on the table. It consisted of both lemon and chocolate flavoured pieces, and since I'm an extremely big fan of lemon — lemon cupcakes are the way to go!
There was also this segment — quite like the 18 roses thing that debuts have — called, "Seven Roses, Seven Treasures". It requires a selected pair (by her parents), or an actual couple to walk to TJ's little pedestal (with the girl holding the present and her boy partner holding the rose) and give both a rose and a present to TJ (these aren't her only presents, by the way, there's a humongous stack diagonal from her).
Best part? Giveaways. Aside from the cake, of course. I like giveaways, even the shot glasses or little glass figures you get from weddings and debuts. This time, I'm getting Hello Kitty items. Hello Kitty is badass, who cares if it's for kids — I'm getting one.
Food was good, I had fun, got Hello Kitty stuff, and I had a blast! I haven't been to a party like this in a while, and it's certainly refreshing! It reminds me of my younger days, when my parents would throw me birthday parties. Ah, childhood is whimsical — people often spend so much time growing up, and it delightful that little things like these bring back fond memories.